Jul
24
Mon
2017
Psychotherapy-Worldcongress (WCP) at UNESCO-Paris with Jörg Fuhrmann speaking

@ MAISON DE L'UNESCO
Jul 24 @ 10:00 – Jul 28 @ 19:00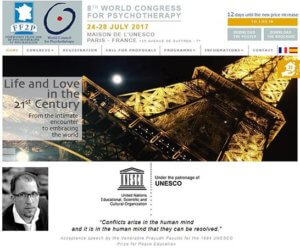 Beyond the Brain - Ultimate Love and Holotropic States of Consciousness
Nothing is so fullpacked with hopes, emotions, ideals, visions and energy as a close relation. And it also brings up to Awareness all the other qualities, which we normally don´t want to have or maybe even don´t feel very much related too: fear, anger, pain, envy, guilt, shame, loss etc. So the Relation is always a risk and a big Chance at the same time. When we see the circumstances under which archetypal or biographical conditions and personal preferences people choose one another it really seems like an "miracle" that one finds another and stays with him for a long time – maybe for a lifetime. Especially the elemental Crisis which often occur sooner or later in close Relationships seem to be really good Catalysts for Breaking through into other States of Awareness and Mindfulness beside the classical western EGO-Structure.
My Thesis for this Presentation is, that "Love" is a – or is related to an – expanded State of Consciousness. For this we "modern Minds" generally need some sort of "Opener". Often Clients experienced such kind of Opener in personal Crisis or Peak-States which where induced through some sort of spiritual Practice, like Meditation or Yoga, or through Sports and other Everyday-Practices like Walking in Nature. Studies show that close and intimate Relationships by Heart are also a very profound "Opener" for this Expanded Consciousness which can lead into a much bigger Understanding of "Love" that is not exclusive but including Life itself or in general. In our western Tradition we find this Experience quite clearly in the Love-Poems of the Middle-Age-Mystics.
In my presentation I want to investigate Methods and Techniques which are used in the psychotherapeutical Setting and which are suitable for inviting the so called "holotropic States of Consciousness" (Stanislav Grof). I further on want to give a Guideline for Safety and Setting.
Jörg Fuhrmann is an Expert for Crisis-Navigation, DeHypnosis and Trancetherapy. He has studied Social Science, Transpersonal Psychology and Dramatheatre. He travelled around the World to different Teachers and Shamans for 20 Years now. He accomplished the Training in Holotropic Breathwork™ with Prof. Stanislav Grof and did a 5-Year Training with Dr. Claudio Naranjo. Jörg Fuhrmann is on a guided spiritual Path of Mysticism by Zen-Master/ Bendictian Willigs Jäger and works as a Gestalttherapist (ECP/WCP)/ Eurotas Certified Transpersonal Hypnotherapist (ECTP) and as Eurotas- Supervisor (ESTP) in Switzerland, near Lake Constance. He´s Founder of freiraum-Institute and has worked many years as a Board certified Trainer for the National Guild of Hypnotists™ as well as a Speaker and Lecturer at different Universities. He´s also a Trainer at the biggest European Centre for Mysticism, Awareness and Zen. Since 2013 he is working on his PhD in Transpersonal Psychology: www.freiraum-institut.ch
Oct
20
Fri
2017
Tattva-Viveka Online Symposium "Wissenschaft & Spiritualität – die Welten verbinden" Jörg Fuhrmann u.a. im Dialog mit Dr. Gerald Hüther

@ Verlag und Versand Ronald Engert
Oct 20 @ 9:30 – Oct 29 @ 17:35
Wissenschaft und Spiritualität – die Welten verbinden Online Symposium



Sprituelle Kulturen:
Jede Kultur oder spirituelle Schule bringt ihre jeweils eigene Stimme in das weltweite spirituelle Orchester mit ein. Indem wir uns austauschen und  das Höchste und Beste aus diesem kulturellen Erbe heraus kristallisieren, bringen wir die Erde auf eine neue Klangebene.
Geistes- und Naturwissenschaft: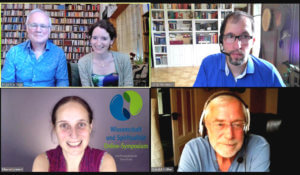 Die klassische Naturwissenschaft ist angetreten, sprirituelles Wissen zu widerlegen und nur materiell messbare Phänomene als real zu betrachten. Mit der Quantenphysik muss sie nun die Existenz der geistigen Sphären eingestehen. Nur knapp 1-5 % der Realität sind materiell. Was können uns die Naturwissenschaften zur Rolle der Gefühle sagen? Können sich Geistes- und Naturwissenschaften heute versöhnen und von der Konkurrenz zur Ko-Kreation gelangen?
Sehen 2.0 – die Verbindung:

Während in der Frühzeit der Mensch unbewusst in die Gesamtheit des menschlichen Kosmos eingebettet war, löst er sich mit dem Zeitalter der Aufklärung durch das Denken und das Ego aus der Verbundenheit. Heute geht es darum, Fühlen und Denken in einer neuen Art des Erkenntnisprozesses zu integrieren und das Wesen von uns selbst im Verhältnis zur Welt zu schauen. Bereits für Platon war die Geistesschau die höchste Stufe der wissenschaftlichen Erkenntnis.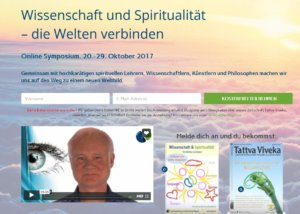 Dieses kostenfreie Online-Symposium ist genau richtig für Dich wenn:
Du von anderen Kulturen lernen willst, um dein spirituelles Wissen zu erweitern.
Du von Quantenphysik, Epigenetik, Neurowissenschaften
 erfahren möchtest, wie man geistige Phänomene wissenschaftlich erklären kann und welche Bedeutung Gefühle haben.
Du eine ganzheitliche Weltsicht finden möchtest, die Gedanken und Gefühle auf einer dritten Ebene verbindet.
Melde Dich jetzt kostenlos an!
Merken
Merken
Merken
Merken
Merken
Merken
Merken
Merken